January 10, 2021
Cyclamens. Winter Flowers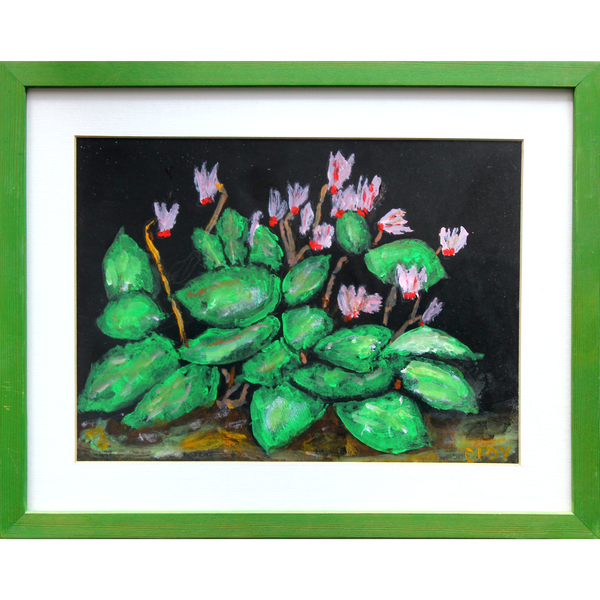 As a bonus we've added a small drawing by Galitsky to the Nir's next picture, Cyclamens.
During the last three-week reporting period four works of Amos Nir left the wardrobe they were kept in by Nira, his widow and are now travelling to new destinations. Two works remained inside Israel, one went to Kirov and yet another one will be settled in Moscow.
The following draws are on the way. But you know what. In Soviet Russia, in deficit times they used to sell things with added stuff. Like if you want to buy something popular, you need to take also something less demanded, thus taking a set instead of a single item. I recall entering a small village store in Konstantinovo. Surprisingly, there was beer and we bought as much as we could take without a bag. But they wouldn't sell just beer and we had to buy also three liters of some juice, locally made I suppose.
That's what we do at our Museum. However it doesn't mean there are items of lesser value.
Same as before, the Nir's masterpiece, Cyclamens, together with Galitsky's drawing, are given for free, you pay only the postal charges.
We are looking forward to your applications.
Terms of Giveaway
The Museum sends items for free (you pay only shipment charges). People from around the world receive works of seniors (pictures, sculptures, ceramics, memoirs in DOC or PDF formats, etc.) if they are ready to keep and exhibit them at home. Press Get the artwork button and register to participate in a giveaway. After the registration is over, we start the video stream of the draw.
We ship the item to the Winner after the shipment fee is received on the Museum's PayPal account. After you receive your artwork, please, send us a high-resolution picture of artwork, preferably in the interior environment, and your portrait and short bio.